HOME > ABOUT US
HOME | PRESS RELEASES | USA PRODUCTS | UK PRODUCTS | ONLINE STORE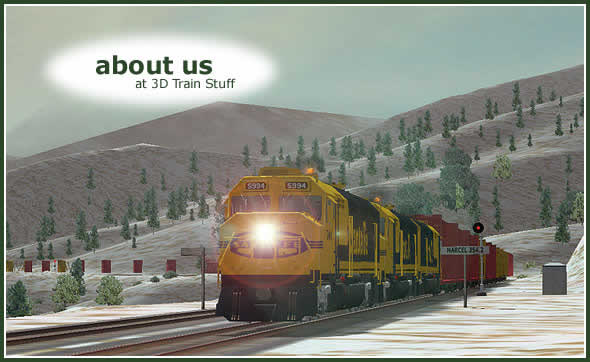 A SANTA FE "BARPAS" LUMBER TRAIN AT MARCEL ON OUR MSTS TEHACHAPI PASS ROUTE II
our mission...
We at 3D Train Stuff believe in providing high quality products and services to our customers and clients, and the way we do this is by attracting and keeping highly skilled professional people. Our people is what sets us apart from our competitors. We treat everyone with the respect and kindness that is inherent in good companies. We extend this belief to every business relationship that we build.
our people...
Brad Brown - Owner/Sounds/3D Artist/Route Developer
John Greenstone - Programmer/Route Developer
John Dunbar - Activity/Route Developer
Dale Miller - Sounds/Research
Bryce Reynolds - Physics/Sounds
Bill Westerhout - Story Writer
James Phillips - Public Relations/Marketing

Nigel Apperley - Owner/3D Artist/Programmer
Richard Scott - 3D Artist
Martin Heywood - Route/Activity Developer
Michael Cleasby - Route/Activity Developer

our experience...
3DTS professional services include; 3d modeling, 3d virtual tours, audio design, digital photography, and VB, C++, VS C# Express and XNA programming.
NOTE: We are not taking on any new projects at this time. If you want to see what we are doing these days please visit www.Run8Studios.com Thank you.

3D Train Stuff.. its more than just trains!
HOME | PRESS RELEASES | USA PRODUCTS | UK PRODUCTS | ONLINE STORE