Southern Pacific came onto the scene in 1966 with the construction of the "Palmdale Cutoff" which gave that railroad a less congested route into West Colton and the greater Los Angeles basin from northern California.
This 90s version of our Cajon Pass train simulator add-on has well over 258 miles of accurate grades, prototype signaled mainlines, junctions, yards, stations, sidings, industrial spurs, realistic scenery, and natural terrain with beautiful distant mountains. And we included three famous railroad subdivisions, including the "Palmdale Cutoff"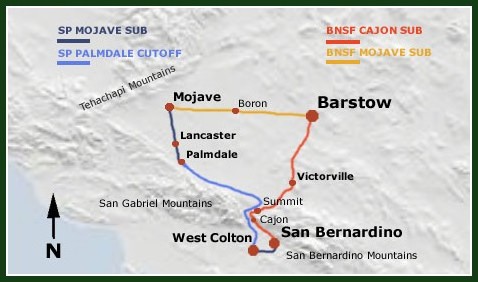 BNSF Cajon Subdivision - Barstow to San Bernardino - 82 miles.



BNSF Mojave Subdivision - Valley Junction to BNSF Jct. at Mojave - 65 miles.

Union Pacific Mojave Subdivision - West Colton to Mojave - 112 miles.
Price: $32.15 (USD) available for download only buy it now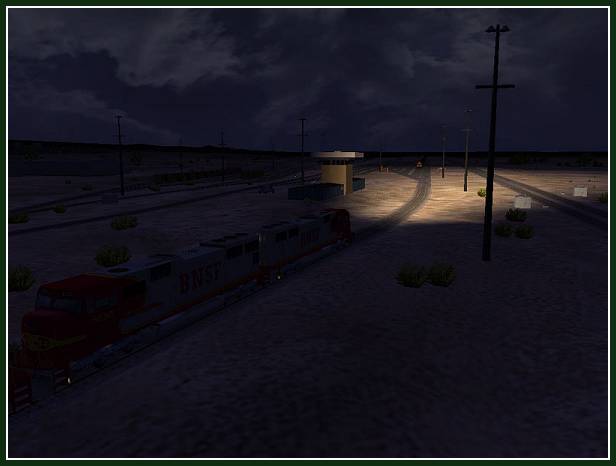 BNSF 8255 Q TRAIN COMING INTO EAST BARSTOW FOR A QUICK REFUEL IN THE EARLY MORNING HOURS
Cajon Pass Screenshot Galleries
Price: $32.15 (USD) available for download only buy it now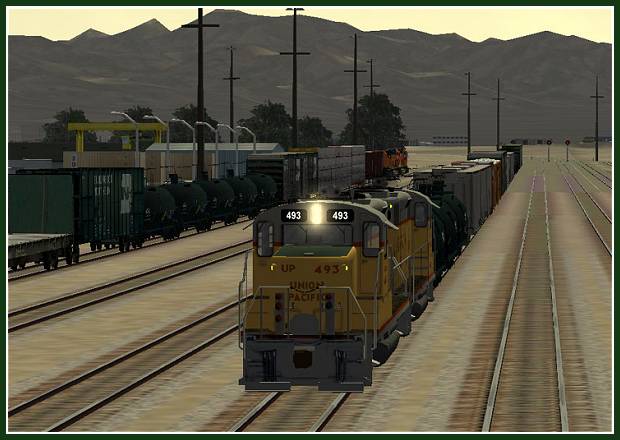 A UP TRANSFER TRAIN GETS READY TO LEAVE SAN BERNARDINO'S A YARD FOR WEST COLTON
There are over 15 new locomotives and trainsets, complete with 3 new cabviews, and sounds interiors, that are included in this addon as well. Here are some of them;
Union Pacific SD70Ms
(modified in Build America liveries)

Union Pacific SD70Ms
(un modified)

Southern Pacific SD70Ms

Union Pacific GP20s

Cargill GP9

Southern Pacific GP20s

Cargill GP9

Santa Fe SD75Ms

Santa Fe GP20s

BNSF 666 - Amtrak 801 - CSX 52
Dash 9 44CW Skins
And there are over 30 new pieces of rolling stock, including new tank, flat, pig, hopper, ore, box, hi cube, center flow, autorack, gon, reefers, and much, much more.
We also included 28 freight activities that will challenge your skills as a locomotive engineer, and also educate you about the daily operations of these busy southern california subdivisions.
Check out all of our screen shots in the screen shot galleries below.
Price: $32.15 (USD) available for download only
buy it now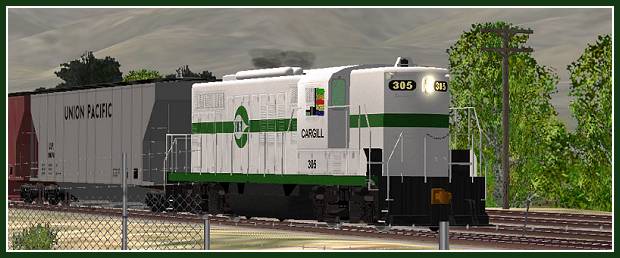 CARGILL 305 WORKING A LONG CUT OF GRAIN CARS AT THE GRAIN STORAGE AND TRANSFER FACILITY AT VERDEMONT