Our Donner Pass Route - High Sierra Crossing features over 90 miles of double track mainline over Southern Pacific's historic Overland Route between Colfax, Ca in the west, to Truckee, Ca to the east. Set in the 50s during the height of the steam to diesel transition era.

Route History

It was the Central Pacific railroad that completed the original line (#1 track), over the high Sierras back on December 13, 1867, and was part of the first transcontinental railroad across the United States. Its construction was a magnificent feat, involved thousands of workers. Unfortunately many lost their lives in the process due to the harsh and dangerous work conditions.

In 1901 the Southern Pacific took control of the line, and in the mid 1920s, a second line (#2 track) was constructed over the pass in order to facillitate a "great expansion" of service over the line.

more maps and screenshots coming soon

However, this turned out not to be needed because by 1928 the railroad was cutting back services mainly due to the automobile and new construction of roads in the region.

Our version of the route is set in the 40s and 50s era, this was a time when big steam locomotives like the Mallets and Consolidations were still in use, and the new first generation diesels were just starting to make it on to the scene like the sleek FP7s and F7s.

The ruling grade over the 90 mile route is roughly between 1.3 and 2.4 percent. From Colfax which is at an elevation of 2,424 feet, the route climbs up the western slope to Summit which is at an elevation of 7,032 feet, and then drops down the eastern slope to Truckee which is at an elevation of 5,825 feet. With the steep mountain grades, and harsh weather during the long winter months, operations over the pass will challenge even the best railroad crews. There is also one heck of a winter snow removal operation over the route that is run out of Norden, and has become legendary. And we touch on this with some of the activities we have in store for you.
Price: Was $39.35 Now $29.95 (USD) available for download only buy it now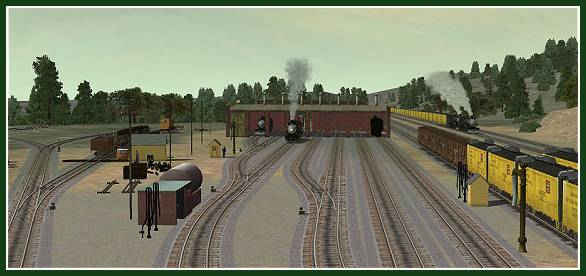 A 2-8-0 CONSOLIDATION GETS READY TO HELP ANOTHER FREIGHT TRAIN OUT OF COLFAX, CA
Here is what we included:
90 miles of extreme mountain railroading between West Colfax and East Truckee on the Roseville Subdivison. 50s era.

Accurate scenery over the entire route, including heavy snow and shed scenery between Emigrant Gap and Norden.

Small portion of the Tahoe Branch.

Distant Mountains and Custom Ground Textures using Demex and Mosaic.

Custom interactive route objects.

18 activities covering SP's passenger, freight, and helper operations. Set during the steam and diesel transition era.

To see the activity work orders
CLICK HERE

Donner Pass Manual.

Route Map suitable for printing.

Activity Developer Notes and Rolling Stock List for advanced MSTS users.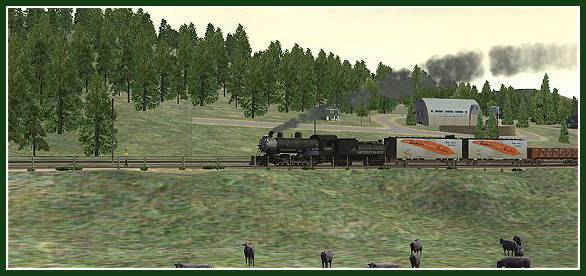 THE TRUCKEE LOCAL HEADS OUT ON THE TAHOE BRANCH
| | |
| --- | --- |
| CONSOLIDATION NIGHT CABVIEW | CONSOLIDATION DAY CABVIEW |
Price: Was $39.35 Now $29.95 (USD) available for download only buy it now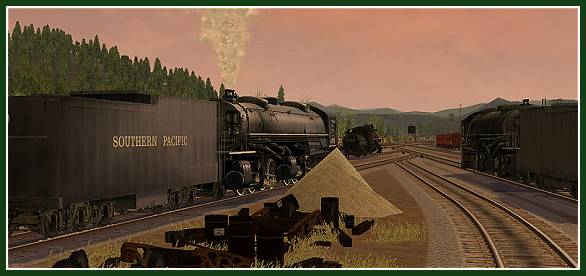 CONSOLIDATIONS AND MALLETS WAITING IN TRUCKEE FOR THEIR TURN UP THE HILL
7 SP 2-8-0 Consolidations with Custom Sounds and Day and Night Cabviews - Snow Versions Included

6 New SP Baldwin AC-10, AC-11, and AC12 Cabforwards (Mallets) with Custom Sounds and Day and Night Cabviews - Snow Versions Included

SP Flangers, and Spreaders


F7 DAY CABVIEW

7 New SP Bloody Nose and Black widow FP7s, and F7s with Custom Sounds and Day Cabview - Snow Versions Included
| | |
| --- | --- |
| AC CAB FORWARD NIGHT CABVIEW | AC CAB FORWARD DAY CABVIEW |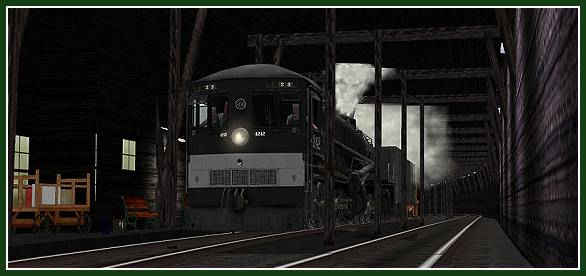 SP 4242 SLOWS DOWN TO PICK UP ITS TRAIN ORDERS AT NORDEN

C-30-4 INTERIOR VIEW

2 C-30-4 Baywindow Cabooses With Custom Interiors

12 40ft Box Cars

12 40ft Reefer Cars

3 36ft Single Dome Tank Cars

3 Gondola Cars With Scrap and Gravel Loads

3 SP Gray/Black Heavy Weight Passenger Cars

2 Cattle Stock Cars

11 Flat Cars With Lumber, Tractors, M4 Tanks, and LCVP Loads

4 MoW Flat Cars With Loads


C-40-3 INTERIOR VIEW

1 C-40-3 Cupola Caboose With Custom Interiors


C-50-9 BAYWINDOW VIEW

2 C-50-9 Baywindow Cabooses With Custom Interiors

6 Log Spline Cars With Loads

8 USRA Hopper Cars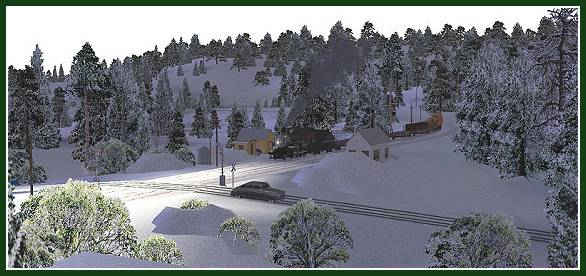 AN EARLY MORNING MOW TRAIN HEADS TOWARDS MIDAS IN THE WINTER
We assure you, this is one of our best routes out so far, and one that you will not want to miss out on.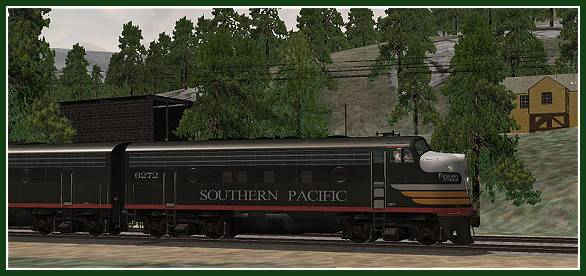 SP 6272 EAST LEAVES NORDEN AND STARTS ITS DESCENT DOWN THE EASTERN SIDE OF THE SIERRAS
Price: Was $39.35 Now $29.95 (USD) available for download only buy it now