The Tehachapi Pass Route II - California Gateway Edition is an add-on route for Microsoft Train Simulator, developed inhouse, and includes the world famous "Tehachapi Loop" at Walong. The add-on features over 100 Miles of accurate route covering two different railroad subdivisions, and two branchline operations.

The Southern Pacific railroad originally built the line over the Tehachapi Mountains back in the late 1800s in order to gain access into Los Angeles and the greater southern california area. The mainline makes a climb of nearly 4,000 feet in elevation between Bakersfield which is at 600 feet, and Summit Switch located east of the small town of Tehachapi which is at 4,600 feet. The line then descends down the eastern side of the Tehachapi Mountain range, and into the small high desert community of Mojave.

To see more maps and screenshots CLICK HERE

Ruling grades over the pass roughly range between 2.4 and 2.8 percent. The steep mountainous grades, and countless mountain curves present quite a challenge to man and machine, and the route is still considered be one of the most challenging for crews in the USA.

Our version of this route was developed to represent the more modern 90s era of the line, and includes operations of the Union Pacific and Southern Pacific (SP merged with the UP in the 90s), BNSF, and SJVRR. And we also included South Bakersfield, Oil Jct., and the Arvin Branch, all of which are now serviced by the SJVRR.

Helper service runs on both sides of the pass, from Mojave to Summit Switch on westward trains, and Edison to Summit Switch on eastward trains. Also, the helpers are usually cut in mid train or put on the rear of the train so they can shove. Its also interesting to note that nowadays they will leave locomotives on the rear of a train in order to assist with dynamic braking while descending the hill.
Price: $32.15 (USD) available for download only
buy it now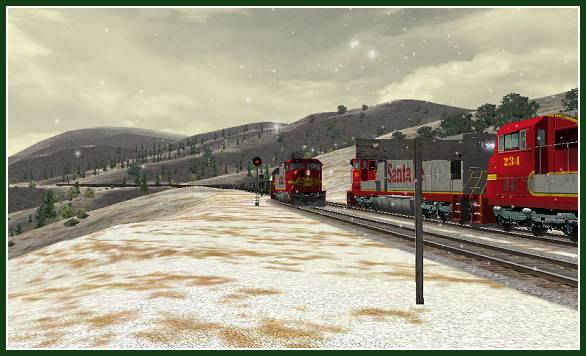 TWO SANTA FE TRAINS MEET AT MARCEL ON A COLD WINTER MORNING IN THE TEHACHAPI'S
The route features over 100 miles of prototypical mainline and branchline operations, and is completely developed with accurate scenery. We even included 35 square miles in and around the Bakersfield, CA area, and the Arvin Branch! So here is what we included:
100 Miles of route covering 2 Subdivisions, and 2 branches

Accurate scenery over the entire route, including lots of people, and animated objects!

18 Activities covering SJVRR, BNSF, UP, and SP operations between Mojave and West Bakersfield. to take a peek at the activity work orders click here

Three Freight Yards, BNSF Bakersfield UP-SP Bakersfield - SP Mojave

Arvin Branch (for SJVRR operations)

Bakersfield Amtrak, and UP-SP Stations

Bakersfield BNSF Office

San Joaquin Valley RR #1754 GP9 (low nose)

Kern Jct. and the line out to South Bakersfield

Dole Piggy Back Cars

TankTrain - GATX trainsets

Union Pacific SD70Ms

Southern Pacific SD70Ms

Southern Pacific GP20s

Santa Fe SD75Ms

Santa Fe GP20s

Santa Fe F45 (AI only)

BNSF 666 - Amtrak 801 - CSX 52
Dash 9 44CW Skins

Tehachapi Manual (Word document with photos)
Price: $32.15 (USD) available for download only
buy it now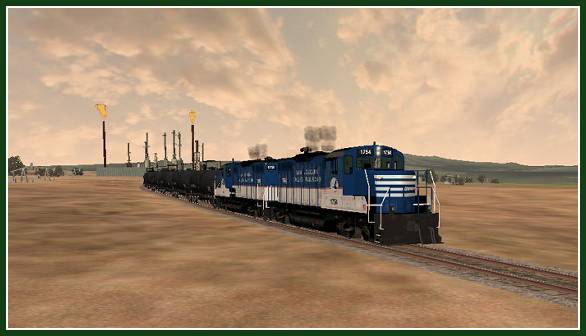 SJVRR 1754 WORKING SOME TANK CARS AT ONE OF THE REFINERIES NORTHWEST OF BAKERSFIELD
we also included 18 activities for your enjoyment, some of which that are either preludes or sequels to some of the Cajon Pass activities included in our other great add-on, The Cajon Pass Route - High Desert Rails Edition. To see some of our work orders that you can print out, click here.
Tehachapi Pass Route II Screenshot Galleries