THE 16 ACTIVITIES
Since the activity scenarios in this add-on are basically set in the past, some 50 years ago, we felt it necessary to give you a detailed history of the trains in them. So you will find in all the briefings and work orders a detailed history of the train you are operating, and then to spice things up a bit we also included some characters with a short story line based around them in order to add some human interest to the activities as well. All of this we feel has resulted in some very cool activities, 16 in all.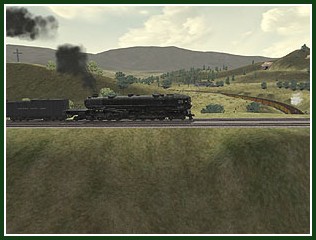 TAKE A HEAVY REEFER TRAIN OVER THE TEHACHAPIS
Of course we also included some work order documents with this add-on that can be printed out along with a short operating manual for the AC Cab Forwards. By the way, several of the activities in this add-on will require you to set brake retainers on your train in order to make it down some of the steep grades that you will encounter on our Tehachapi Pass Route with these locomotives, and this operation is explained as well.
THE 3DTS CHALLENGE
Since many of our customers enjoyed the "3DTS CHALLENGE" included in our last add-on we went ahead and included one in this as well, its the "Heavy Reefer Train" activity shown above, and we assure you that you will find it extremely challenging to say the least.. more information can be found in the work order documents on the cd.
Price: $26.75 (USD) available for download only buy it now
** REQUIRES TEHACHAPI PASS ROUTE II **