IMPORTANT NOTE: This is a stand alone route product and does not include any trainsets or activities. Trainsets and activities are available through www.dieselswest.com in the form of their SP Pack 1 and SP Pack 2 products. All trainsets featured in the images of this page are those of Diesels West.

Our SP West Colton Route is all about the operations in and around a huge classification yard. In this case, SP's West Colton Yard which is one of the largest on the west coast. Our route encompasses about 40 square miles and includes sections of four different Subdivisions. They are: 1) The SP Alhambra Sub which starts at West Colton and runs west to LA. 2) The SP Mojave Sub which starts at West Colton and runs north over the Palmdale Cutoff towards Mojave and Bakersfield. 3) The SP Yuma Sub which starts at West Colton and runs eastward towards Indio and Yuma. 4) The ATSF San Bernardino Sub which starts at San Bernardino and runs south/west towards West Redondo.

And we also included SP's old Colton Yard and the Santa Fe A and B Yards in San Bernardino.


THE HOSTLERS ARE KEPT BUSY 24/7 AT WEST COLTONS DIESEL SERVICE FACILITY

Price: $29.95 (USD) available for download only buy it now

The circa is from the late 70's to the mid 90's, and the track charts we used were dated 1996 which is the pre merger period before Union Pacific merged with Southern Pacific, and Burlington Northern merged with Santa Fe.

And finally, the entire route is situated next to the San Gabrial and San Bernardino mountain ranges to the north and northeast of the area which provides beautiful vistas and a dramatic backdrop for this MSTS project.

NOTE: Due to the constraints within MSTS we were unable to include every track, bridge, overpass, culvert, and road that is there in real life. For example, only the eastbound lanes of I-10 were included along the SP mainline as the project sits right in the middle of a highly populated area in southern California so it just wasn't feasible. However, with that said, we feel that we did a great job of giving users a good feel for the area.

Though we did include seasonal textures for the route, we did not include SNOW textures since it has never really snowed much at West Colton. Maybe once in the last 150 years, and that didn't stay on the ground very long. However, you will notice a big difference on the route between Summer and Winter. Summers are very dry here, hence, there is allot of dried up vegetation along the route. In the Winter during the rainy season, its just the opposite, and we feel we did a nice job duplicating that for this project.

Its also worth noting that we did not include scenery for Kaiser Steel (north of Kaiser) as there is about 30 feature assets needed to do it right. However, we did put the tracks in there, and we will consider doing an add-on in the future that would complete this area of the route.


THE WEST COLTON TRIM TOWER LOCATED JUST NORTH OF THE DIESEL FACILITY
Price: $29.95 (USD) available for download only buy it now
History
West Colton was built by Southern Pacific in 1972 at the junction of the lines west into Los Angeles and north over the Colton-Palmdale Cutoff (which opened in 1968) to replace the classification yard in Los Angeles that was no longer on the main route between the Sunset Route and the San Joaquin Valley line. The yard is nearly six miles long and the recieving tracks can hold 180 car trains and the classification tracks are between 2200 ft and 3200 ft. long. The departure tracks can hold approximately 2000 cars. All departures leave from the east end of the yard, however, there is a balloon track that can turn trains west if they are headed in that direction.
The actual yard location is on the south side of the Sunset Route main line and on the south side of I-10, some 45 miles east of Los Angeles. A diesel locomotive maintenance facility is also located at West Colton. The large yard is laid out along the south side of the main track. Beginning at Sierra Avenue, one sees the receiving yard (where cars are inspected and checked against wheel reports). Then, just east of Cedar Avenue the receiving tracks lead to the hump crest and the hump tower (administrative offices are also located south of the hump crest) followed by the classification bowl tracks which narrow down to pass under Riverside Avenue. Southwest of the Riverside Avenue overpass is the locomotive facility and the engineering headquarters. East of Riverside Avenue are the departure tracks stretching to Pepper Avenue.
Price: $29.95 (USD) available for download only buy it now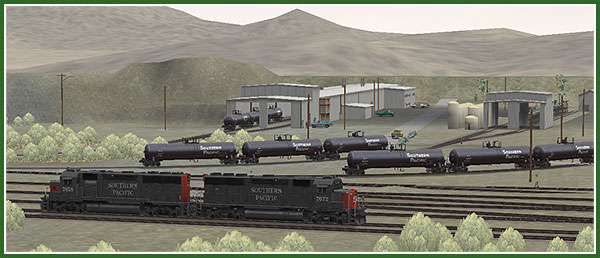 THE GATX FACILITY AT THE EAST END OF WEST COLTON WHERE TANK CARS ARE CLEANED AND SERVICIED
Here is what we included:
*Route Manual
CLICK HERE TO VIEW MANUAL

*Admin Building

*Hump Tower

*Trim Tower

*Pedestrian Overpass

*MiJack Overhead Crane

*Custom SoCal Foilage

*Diesel Wash Shed

*Diesel Sanding and Refueling
Facility

*GATX Tank Car Servicing Facility

*Old Colton Tower

*SP MoW HiRail Crane/Crew Truck

*Custom Seasonal Textures

*Custom Night Textures For Realistic MSTS Night Operations

*Performance Notes
CLICK HERE TO SEE NOTES

*Custom Defect Detectors
CLICK HERE FOR TECH NOTES

*New Accurate Switches

*Double Diamonds

*New US Vehicles and Trucks

*New US Target Signals

*Operational Track Boards
Price: $29.95 (USD) available for download only buy it now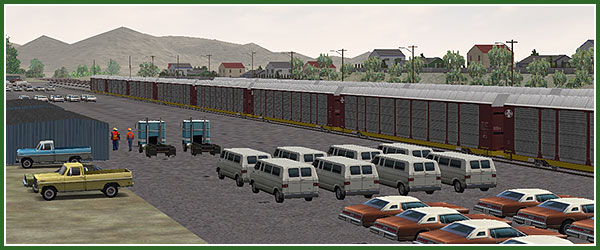 THE AUTO TRANSFER FACILITY AT SANTA FES SAN BERNARDINO "B YARD"
Installation
Note: To users running Vista or Windows7 in 64bit you may need to rediredt our installer using the "Change" button to the (x86) folder that Vista and Windows7 creates on your pc. We don't know why Vista or Windows 7 does this. The pathway should look like this;
C:\Program Files (x86)\Microsoft Games\Train Simulator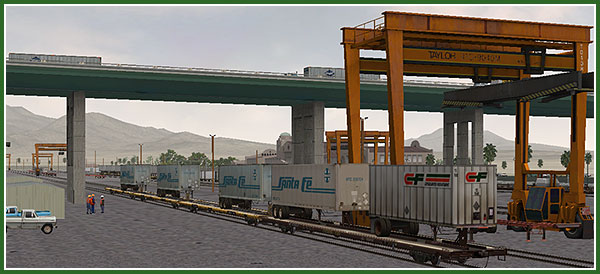 TOFC OPERATIONS AT SANTA FES SAN BERNARDINO "A YARD"
System Requirements
Windows 98, ME, 2000, XP, Vista, and Windows7
Microsoft Train Simulator 1.2 (Atari MSTS version will work as well)
MSTS Bin patch v1.8 or better. (MSTS Bin is available from MSTSBin/UKTrainSim Click Here)
1.7 Ghz Pentium-II or equivalent CPU
128Mb 3D Video hardware acceleration or better
Hard drive space needed 650Mb
Price: $29.95 (USD) available for download only buy it now


AN EASTBOUND GETS THE HIGHBALL TO PROCEED ACROSS THE SANTA FE MAINLINE AT COLTON TOWER
Credits
Route Development:
John Dunbar, Brad Brown, and Chris Boneli
Asset Development:
Peter Holton, Nigel Apperley, Brad Brown, Chris Boneli, Richard Scott, and John Greenstone
Special Contributions:
Scott Steele at Diesels West - www.dieselswest.com
Dale Miller - Bill Westerhout - Bryce Reynolds
Cathy Dodds (detector voices) - www.secretquiltdreamz.com
in loving memory of
Bruce Bowers (aka The Chief) and Annie (the beagle)
Price: $29.95 (USD) available for download only buy it now