3D Train Stuff takes great pride in every rail simulation product we develop, and since everyone here loves railroading, our RAILROAD TRAIN SIMULATOR ADDONS are not only of a high quality standard, our railroad simulation addons also offer virtual railroaders many types of realistic and prototypical railroad operations, and over some very realistic prototypical train routes that are easy to use and ready to run on your Microsoft® Train Simulator program. Just put the cd in, and within minutes you will be having fun with our train simulator add-ons.
To see our train simulator addons for yourself, please visit one of our addons listed below..
CLICK HERE FOR CUSTOMER SERVICE INFORMATION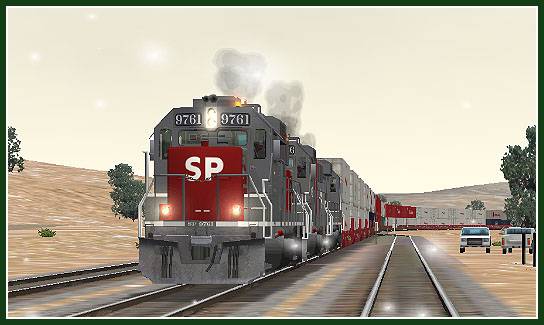 A TRACK INSPECTOR GETS READY TO PERFORM A ROLL BY OF THE SP 9761 EAST AT BEALVILLE, CA.
3DTS developing high quality railroad simulator addons for Microsoft® Train Simulator..
3D Train Stuff.. its more than just trains!